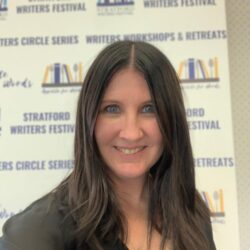 Author Chrissy Hobbs, writing under the pen name Sam Lawrence has written and published a best-selling children's book, The Day My Fart Followed Me To Hockey, along with a bestselling children's chapter book series, Hockey Wars, in her seven years as a self-published author.
Chrissy transitioned from a law enforcement role into the self-publishing world, seeking a sea change to better fit her new lifestyle. Now, primarily focusing on children's books and children's chapter books, she also helps other self-published authors achieve their dreams through her Canadian self-publishing company, Indie Publishing Group Inc.
Self-publishing has allowed Chrissy to enjoy travelling the world, including spending time in Australia with her Australian husband and extended family.
Membership in the London Writers Society is the best writing bargain to be had — only $40 a year to join our creative community. If you want to attend a meeting or two before you join, that is certainly fine.
You can join LWS in one of the following ways: in person at one of our General Membership Meetings, by mailing a cheque, or by purchasing a membership on our website.
Stay Connected
Subscribe to our monthly newsletter and stay up-to-date with LWS news and events, announcements and regional writing opportunities.
*Note: Subscribing to the newsletter does not provide membership privileges. To join the LWS go to Membership page.