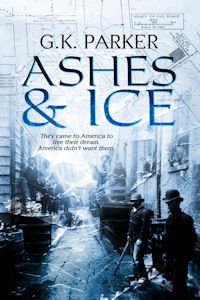 It's always exciting to finally get the cover for your latest novel. The wait can be a bit nerve wracking since you don't know if it will be good, bad or indifferent and book covers have a big part in selling the product.
My newest publisher, Damnation Books/Eternal Press, did ask for input on the cover, then sent an unfinished version for my approval. I'm not sure what would have been done if I hated it–gone back to the drawing board or tell me to suck it up, but it's a moot question since I loved it. The only suggestion I had was the tagline under the title as opposed to the one they had.
This novel is a departure for me, my first mainstream historical after 13 contemporary gay novels–see them at http;//pabrown.com. I'm also doing them under a pseudonym, GK Parker– http://gkparkernoir.com
Ashes & Ice will be released January 1, 2015 and if that isn't a great way to start a new year, I don't know what is.
Ashes & Ice follows two Irish immigrants who come to America for a better life. They arrive in New York, a city not very fond of the Irish right then. The two immigrants, strangers when they first met on the ship, go their separate ways, both fighting to survive in a world that doesn't want them, in the worst slum in American history–Five Points. It's an exciting story that pits them against dangerous people, nature and a ten-year-old street urchin who's too cocky for his own good and gets everybody into trouble. Along the way an unusual horse called Peg enters their lives and may just be the key to their survival.